Donna Tartt - The Little Friend
After ten years of silence, Donna Tartt comes back with a totally different novel. The author's attempt to tackle altogether different fields is a success: if The Secret History was elegantly thrilling, her second novel, The Little Friend is downright stifling. Indeed, this long awaited thriller raised many questions, and if several critics have judged the manuscript more mature, others did not hesitate to judge it as soporific. It is true, one must admit, that the pages flew by themselves while reading The Secret History, whereas with The Little Friend, the end never comes, and when the reader finally reaches its last page, it is only to remain speechless and disappointed. The challenge to write a second novel after Tartt's terrific debut was a difficult one, and the decade separating her two boo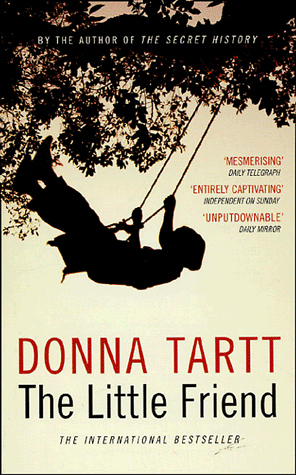 ks did not make it easier as the audience grew more and more impatient and demanding. Despite the fact that it did not reach its audience's expectations, The Little Friend is an interesting novel. It appears to share several concepts with The Secret History since the ideas of misleading appearances and of an incapable justice are present in both novels. The most remarkable part of Tartt's second novel lies in its social and psychological concern. Whereas if follows the features of Southern Gothic literature, The Little Friend deals with delicate issues such as despair and degeneration of a family who has suffered the loss of a child. The similarities between the little heroine of the novel, Harriet, and its author are striking; even though, as Donna Tartt claimed several times, the similitude between the fiction and her life stops there. Nevertheless, it is this dark little bookish girl who takes the readers by the hand to explore her own collapsing world.

The Little Friend begins as The Secret History, i.e. by a prologue in which the facts are tartly stated: a murder. In the 1960's deep Southern city of Alexandria, Mississippi, on Mother's day, Robin Cleve, eleven years old, was found hanged upon a tupelo tree, in the familial garden. Although Charlotte Cleve, his mother, felt that something was wrong, she wasn't able to know what and the guilt of her only son's death will forever lie upon her shoulders. At
the time Harriet was only a baby, and Allison was five years old. Both sisters were in the garden when it
happened. Ten years afterwards, Harriet is twelve years old, the crime is still unsolved and although Robin has be
come an iconographic figure, the circumstances of his death are silenced. Through Harriet's stream of consciousness, the reader visits the remaining ruins of her family. With a depressed and constanty sleeping Charlotte who has abandoned her motherly role; an absent father, who ran away from the suffocating household; three spinsterish aunts directly taken from a fairy tale, who are afraid of everything outsider; and a bitter grandmother, who will not tolerate any childish behavior, Harriet's path towards adulthood is full of pitfalls. The only adult who could actually keep everything together was the maid, Ida Rhew, who gets unfortunately fired. As a desperate attempt to escape from this semblance of life, Harriet, accompanied by her friend Hely, decides to find her brother's murderer. Basing herself on hearsays and prejudices, she comes to suspect Danny
Ratcliff
. Her grudge consumes her so much that she decides to kill him with a poisonous snake. Through her quest for vengeance, th
e
Ratcliff
s.
brotherhood is portrayed as a "clan of drug-dealing white trash" (Jones, Newsweek, 2002) which therefore adds a social concern to the novel. After several pages devoted to the actual catching of a snake, the child's attempt to throw a cobra in Danny's car from a bridge fails. Indeed, it was Gum, the
Ratcliff
s
's grandmother, who was driving that day and although she was badly injured, she was not killed. Harriet, scared to be found guilty, escapes to a religious summer camp. However, as one of her aunts dies, she is forced to come back. Then, full of perseverance, she sets off a very dangerous investigation to find the presumed guilty, Danny. The peril of her situation is obvious when she witnesses Danny Ratcliff shooting his brother, Farish. As she is heading towards her hiding place, she shoots him, but misses. Finally, after Harriet almost drowns in the arduous fight, she finally succeeds in drowning Danny instead and goes back home as if nothing had happened. However, once home, she has a seizure and is taken to the hospital. There, she learns that her dead brother Robin and Danny were friends and thus realize that she made a mistake. As she begins to feel guilty, she learns that Danny survived. And the novel ends like this, leaving plenty of space for interrogation marks.

Through her attempt to solve the mystery of her brother's death, Harriet drags the reader into an atmosphere typical of the American South. The feeling of confinement is accurately conveyed, and the readers experience the same thirst for escape as Harriet's. As Natasha Walter implies, when the last page is turned, the reader might be inundated by a feeling of relief. The novel's depiction of family life in Mississippi is authentic: in a society where violence, racism and social conflicts have gotten the better of the daydream it once was, a little girl has difficulties to grow up. The effects of the past - historical or personal - on the Cleve family are disastrous. As desperate times call for desperate measures, Harriet is decided to take the bull by the horns and to fight evil as what she believes to be its roots: the
Ratcliff
s. However, their family is as degenerated as hers. The portrayal of these two destructed families gives a rendition of Alexandria, Mississippi, as a place overwhelmed with evil and chaos, a notion so often found in the traditional literature of the American South.